Muscle Massage Gun, Type HOME PRO-G
Percussion Fascia Gun for Sore Muscle and Stiffness, Professional Deep Tissue Percussion Muscle Massager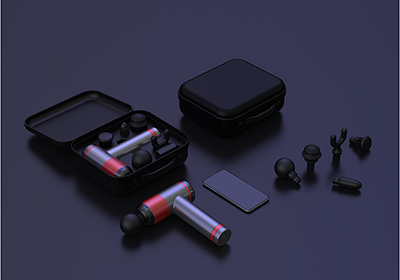 Description
HOME PRO-G massage gun is a cordless state-of-the-art massage device that helps to reduce muscle soreness and tension, promote blood circulation, optimize mobility and improve the general condition of the body's musculoskeletal system.
Features
1.As an efficient sports recovery tool, the deep tissue massager features 5 gears to achieve different deep tissue massage needs. The gear can be easily changed by rotating the knob at the bottom of the handle.

2.The massage gun features no button design, and the bottom light indicates corresponding operation. The small body generates high amplitude, while the handle is stable, causing no numbness or shock even at the highest level.

3.Safe and fast charging

Magnetic suction plug charging
Magnetic connector provides easy connection with the power cable.
High capacity lithium-ion battery for long running time

4.Integrated design without buttons for aesthetically pleasing appearance
Parameters
Model: HOME PRO-G
Net weight: 750g
Frequency: 30-50Hz
Amplitude: 12mm
Motor: brushless motor
Max power: 57W
Noise level: less than 45dB
Charging time: 2.5h
Run time per charge: 3-4h
Charging method: magnetic charging
Battery capacity: 1400mAh
Intensity levels: 5
Number of massage heads: 5
Xiamen Renhe Sports Equipment Co.,Ltd offers both cardio exercise machines including treadmill, rowing machine, and massage gun for post-workout recovery. Our cardio equipment developed with the latest sports technologies provides more comfortable and effective exercise. Our design team is comprised of industry experts who create products based on body mechanics, strength, and aesthetics. Our treadmills and rowing machines are produced using aluminum frames that make them lightweight and easy to move and store as needed. In addition to our standard line of products, we also provide customization service upon request. Contact us today to learn more about our outstanding treadmills and rowing machines!