Walking Treadmill, Type HOME WALKING+
Running Machine, Smart Folding 2-in-1 Walking & Jogging Treadmill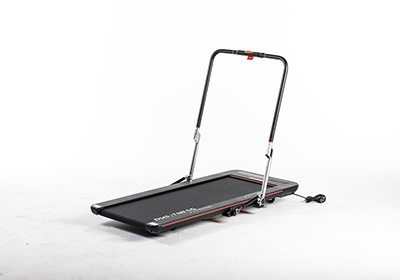 Description
The compact and folding treadmill is designed with aluminum alloy frame, high density elastic running board, and integrally molded side rails and supporting frame, ensuring our treadmill is sturdy enough to withstand user weight up to 120kgs.
Features
Innovative infrared foot control technology

After walking three steps successively from the back of the walking belt to the front, the walking treadmill will start-up automatically. In addition, this folding treadmill for home use comes with infrared induction to sense your body's position for changing speeds.

Ultra Space Saving

The handrail can be firmly fixed onto the frame to achieve an easy transportation with our delicately designed bidirectional folding locking mechanism. With a minimum height of only 9cm, the folding treadmill can be stored under the sofa, bed or against the wall.

Seamless connections

All parts of the treadmill are seamless connection without screws, with gap less than 0.1mm.

Safety handrails

The walking treadmill is designed with safety handrails for added support and safety. In addition, there are buttons on the handrails for easy operation.

Optional remote control
Parameters
Model: HOME WALKING+
Color: Silver grey and matte black
Rated power: 450W
Speed range: 1-8km/h
Max load: 120kgs / 264lbs
Running area: 1200*460mm
Unfolded dimensions: 1430x735x1030mm
Folded dimensions: 1475x735x93mm
Packaging dimensions: 1515x756x120mm
Fixed incline
Display: Speed, Time, Steps, Distance
Built in Bluetooth speaker
Xiamen Renhe Sports Equipment Co.,Ltd offers both cardio exercise machines including treadmill, rowing machine, and massage gun for post-workout recovery. Our cardio equipment developed with the latest sports technologies provides more comfortable and effective exercise. Our design team is comprised of industry experts who create products based on body mechanics, strength, and aesthetics. Our treadmills and rowing machines are produced using aluminum frames that make them lightweight and easy to move and store as needed. In addition to our standard line of products, we also provide customization service upon request. Contact us today to learn more about our outstanding treadmills and rowing machines!